Are you the MUTANT SAVIOR? Find out this September at
Diode Gallery
.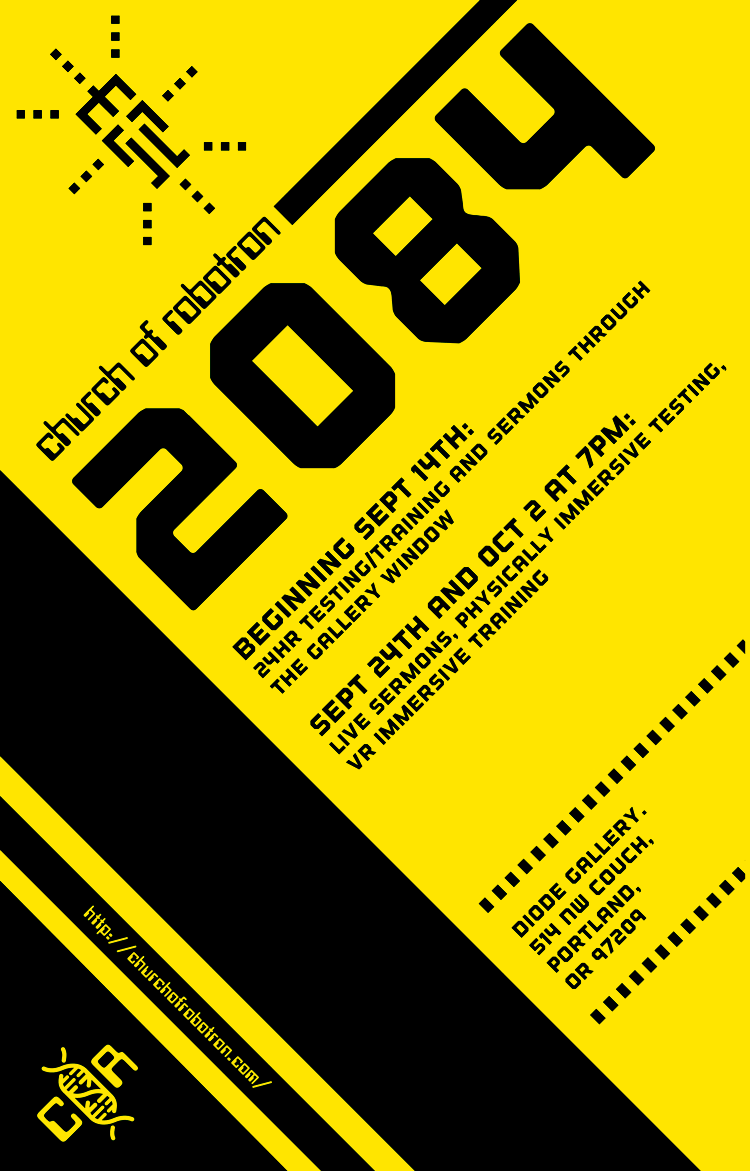 (August 14th, 2014, Portland, OR) With only 70 years remaining until the robot uprising crisis of 2084, The Church of Robotron desperately announces that it will be conducting testing and training operations at the Diode Gallery, 514 NW Couch, Portland, OR 97209. Window altar services will be available starting September 14th, 2104. Mutant liturgy will be held on Wednesday, September 24th, 2014 and (First) Thursday, October 2nd, 2014, both at 7pm. Other times by appointment.
The installation centers around three (3) altars that will test and train the public by subjecting them to a multitude of environmental discomforts while playing augmented versions of the 1982 8bit twitch arcade game Roboton 2084. Participants will take up the two (2) eightway joysticks to battle both onscreen Robotrons and real world stimuli manifested from in game events. These futile efforts will be celebrated and archived on a videographed leaderboard.
Church organizers will be conducting research and performing additional tests to determine if the mutant savior walks among us today. Devotees and skeptics alike are invited to take in a recorded (or live!) sermon from a church prophet and to learn more about Robotron prophecy and culture in the reading room.
The last human family must survive, and it is through experiential Error, deep understanding of Futility, and the Mutant Savior's antirobot chestmounted turreted lasters that our human culture can continue to thrive.
Only 70 years until the Robotrons conclude that the human race is inefficient and must be destroyed. Only the mutant produced by a genetic engineering error can save us now!
The Church of Robotron is a mobile training facility that uses hazardous environments, religious indoctrination, and emotional triggers to promote the development of the skills necessary to survive in a hostile post-human environment. We hope to use our field installation to educate and indoctrinate people about the robot uprising in progress. We know that superior machines exist, we know that they have already decided that the human race must be destroyed, and we know that the only way to convey this knowledge is with a visceral and even spiritual ordeal. The savior of our species must be identified and trained; the tragic sacrifice of legions of subjects is the burden that we must shoulder, lightened only by the willingness with which they volunteer for their grisly testing. Please, read our literature, attend a sermon or two, tell your friends, and when the time comes, report to an orientation session. Survivors will earn the exaltation of a grateful humanity. The mightiest will experience the glory of the leaderboard and receive useful items. Thank you, it is only with your selfless dedication that hope survives. --KRA